Dec 13 2014
Another interesting story on the Challenges of Farming… harvesting carrots with early winter weather issues.
Nov 24, 2014  |  Vote 0    0
Acres of carrots remain in ground after snowfall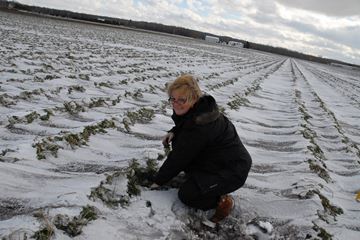 Cool Carrots
Dominik Kurek
Holland Marsh farmer Avia Eek checks out the carrots that still need harvesting on her field. She's among a number of area farmers waiting for the snow to melt before she pulls the crop out of the ground.
Newmarket Era
The Holland Marsh Growers Association estimates there are approximately 200 acres of carrots still in the ground locally and farmers are waiting for the snow to melt before they pull them out.
Eek Farms was only two or three days away from completing its harvest when the frigid temperatures and snow fell on the fields. Now, the local farm is waiting for the snow to melt to pull out about 15 acres of carrots. At full market value, that's about $35,000 worth of carrots buried under snow.
"These are gorgeous carrots," said Avia Eek. "They're beautiful carrots. That's going to be our best field for carrots and there's hardly going to be any junk in it. That's what really hurts the most."
Eek Farms had already pulled out the majority of its carrots from the ground, but was waiting on the last bunch while their onions cured outside before they were placed into winter storage.
 "We just needed those extra two to three days that we waited to put the onions away," she said.
Each harvest has its own set of challenges, Eek said. This year, for example, one field at Eek Farms was re-seeded about six weeks after its normal date after the first crop was damaged by hail in the spring. That same field was held off as one of the last to be harvested and got buried by snow.
Holland Marsh Growers Association chairperson and local farmer Alex Makarenko said the weather hit the farmers hard. His farm has less than a day's worth of carrot harvesting left, but others got hit worse.
"There are farms out there that have 20, 30, some guys have 40, further north, one guy has about 50 acres to go," he said.
Last year, there was a blizzard Nov. 22 that came through here, so this weather is not uncommon, however, in recent years farmers got used to longer fall seasons with little or no snow into November.
"Years ago, you had to be done by Nov. 3, Nov, 11 at the latest," he said. "Now we're pushing it to the 20th," he said.
"In our case, it was our own fault we put it off. We pushed it a little too late," he said.
He said other farmers were waiting to harvest their onion crops, which delayed the carrot harvest.
It's also preferable to harvest carrots and place them into cold storage when the weather is cold.
Despite the snow, Makarenko said farmers won't be hit too hard
He said this year's crop yield has been good and the snowfall won't affect the remaining harvest much, saying some farmers will lose some vegetables.
Eek said the best-case scenario for her farm is for the ground to thaw this weekend and then she can harvest the carrots Monday to Wednesday.
"We'll have to see what the condition is of the carrots," she said.
If the conditions are ideal, the carrots will go into cold storage as usual.
Otherwise, the carrots may not be able to be kept in storage until May and will have to be moved sooner.
If there is frost damage, they will have to go to a processing facility where the damaged product will be cut off and the remainder diced, for products like soups and frozen vegetables.